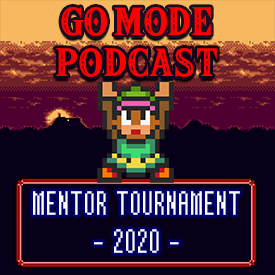 timp, Daaanty, & Hurfydurfy, co-hosts of
are pleased to announce the return of the
GO MODE PODCAST:
MENTOR TOURNAMENT 2020!
Summer 2020 (May – August)
---
Last Update: May 29, 2020
Guidelines written by timp & approved by GMPMT2020 Admin Team
What is the Mentor Tournament?
During the summer of 2019, the co-hosts of the Go Mode Podcast (timp, Hurfydurfy, and Axeil at the time) wanted to put on a tournament in which all of their listeners could participate if they chose, whether they were brand new to ALTTPR or seasoned vets. Given that Go Mode is big on promoting improvement and participation within the Rando community, they liked the idea of focusing the tournament on the idea of improving. Thanks to some brainstorming in our community and a particularly great suggestion from a listener, the Go Mode Podcast Mentor Tournament was born!
The Elevator Pitch: The Mentor Tournament is a 1v1 ALTTPR racing competition specifically for beginner and intermediate racers who want to improve their Rando game. During every race, both competitors will each be guided by their own personal mentor during the race, who will help them through the race by offering up suggestions & advice.
The Go Mode Podcast Mentor Tournament (GMPMT for short) had a very successful inaugural season, hosting 32 Racers, 27 Mentors, and a small dedicated crew of restreamers and volunteers. A champion was crowned, lessons were learned, and now timp, Hurfydurfy, and mentor-turned-cohost Daaanty are ready to bring it back for Season 2 in 2020.
We have an all-purpose Signup Sheet for you to fill out, but here are some general criteria of what we're looking for in each role.
Racers: New to the game/racing, has room for improvement, open to accepting feedback in real time. For the MT2020, we will cap this number at 64.
Mentors: Has experience with the game & some form of accolade(s) to prove it; able to patiently explain ALTTPR concepts and work with new people over voice chat.
Commentating/Tracking/Restreaming: An interest and a willingness to learn by doing
Signups for Racers are closed but applications for Mentors & Volunteers are still being accepted.
Target start date: Wed, May 27, 2020
FIRST RACES: Mon, June 1
---
Tournament Guidelines
How are Racers and Mentors Chosen?
NEW FOR 2020
Racers Selection Process Considerations
Did the Racer submit an application during the initial 2 week period?
Is the Racer green/inexperienced?
Will their inclusion help us reach either 32, 48, or 64 total Racers?
We will be relying on each Racer's own self-assessment of skill to determine if the Racer is suited to participate in this tournament. There are no lower limits, meaning a Racer could be brand new to the game and still eligible. However, admins may reserve the right to ask an applicant who is interested in Racing to instead consider mentoring if their skill level seems like it may be too high compared to the rest of the Racers, especially if their inclusion would result in an unfavorable number of total Racers.
Hypotheticals
We have 34 Racers apply. Solution: Cut the 2 most experienced applicants and start the tournament.
We have 45 Racers apply. Solution: Allow all of them, and extend the sign-up period until we recruit 3 more Racers.
We have 70 Racers apply. Solution: Cut the 6 most experienced applicants and start the tournament.
NEW FOR 2020
Mentor Selection Process Considerations
Has the Mentor submitted an application at any point?
Does the Mentor have some justification to demonstrate their ability to mentor a new Racer?
Do they have some degree of availability?
There will be no cap to the number of Mentors allowed to participate. Additionally, we would encourage folks who may be on the fence about this to go ahead and apply if interested; last year we learned that even Mentors with "intermediate" knowledge of the game can still make great Mentors, especially for newer Racers!
Tournament Overview
The Basics: Two self-professed rookies (aka our Racers) of A Link to the Past Randomizer speedruns will go head-to-head in a race of the same seed, starting at the same time and calling .done once finished. Fastest completion wins the race. HOWEVER! Instead of being on their own as in a typical race, each Racer will be aided by one volunteer Mentor, who will observe the progress of the Racer on stream and act as their tutor, co-pilot, and cheerleader throughout the race via voice or text chat. This Mentor will, for all intents and purposes, be on the Racer's team throughout the race, giving them advice and coaching them to the fastest finish time achievable.
NEW FOR 2020 Setting Up a Race: Racers will be given an opponent to race once per week for 6 weeks in a Swiss-system of group rounds (more on this below). Once an opponent has been identified, Racers will be responsible for securing a Mentor for the race.
Racer/Mentor Matching Process
If you have a specific Mentor from the community in mind, feel free to reach out to them directly to confirm them as your Mentor.
If you don't have a Mentor in mind, you'll head to the #mt-racer channel of our Discord to find one. We will have a list of all registered Mentors and some info about each of them to peruse, including a Mentor Availability Schedule. We recommend considering both availability and areas of expertise when choosing a Mentor to reach out to.
Once you know the Mentor you'd like to work with (along with 1-2 backups in mind), ping them in the channel or DM them to ask. PLEASE! Be respectful of Time Zones! Keep pings and DMs between 9:00 AM – 9:00 PM THEIR TIME as a courtesy.

Once both Racers have a Mentor lined up, it's time for all four parties to coordinate a race time that works for everyone. In the event that 2 Racers and 1 Mentor can make a time work but the 2nd Mentor cannot, that Racer's Mentor may then choose to reach out to a different Mentor who is available at that time if they wish.
Time Commitment, Racers: One race per week for 6 weeks starting the 1st week of June, then (an average of) 2-3 races a week for 4 weeks in brackets.
Time Commitment, Mentors: If and when a Racer reaches out, Mentors will be expected to try to make an effort to attend the race and participate if possible. Racers and Mentors may also work out "practice time" on their own time if desired (though this is not a requirement by any means)
The Format
NEW FOR 2020 The tournament will be divided into two phases: Group Swiss Rounds and Finals Brackets.
Group Swiss Rounds: Once the final pool of Racers has been locked in, the admins will attempt to seed the Racers for Week 1 competition based on a combination of each Racer's self-assessment responses and the admin's own research if applicable (Fallifier results, ALTTPR Ladder standings, League results, etc). Due to the nature of the Swiss-system, matchups in subsequent weeks will be determined by each Racer's win-loss record so that matchups stay relatively even throughout the 6 weeks.
Swiss Week 1: Ambrosia*
Swiss Week 2: Ambrosia
Swiss Week 3: Ambrosia (MENTORLESS)
Swiss Week 4: Open
Swiss Week 5: Open
Swiss Week 6: Open (MENTORLESS)
*Ambrosia: Sword Start, Uncle Boots Hint, Guaranteed Items on Dungeon Bosses.
NEW FOR 2020 Finals Brackets: Standings at the end of the Swiss Group Round will seed Racers into a finals bracket. All Racers will make it to a bracket since we plan to host tiered brackets; one for each group of 16 Racers. This means we could have 2, 3, or 4 brackets depending on the final Racer count. But no matter how many brackets are filled, the bracket consisting of the 16 Racers with the best record will be considered the "Main" bracket.
The playoff format will be as follows:
Round 1: Open, Bo1, Mentored
Quarterfinals: Standard, Bo1, Mentored
Semifinals: Player's Choice, Bo3, Mentorless
Finals: Player's Choice, Bo3, Mentorless
Player's Choice: High seed chooses G1 mode, Loser of G1 picks G2 mode, Loser of G2 picks G3 mode
Modes: Standard, Ambrosia, Open, Casual
Racer & Mentor Pairing Details
NEW FOR 2020 Requesting a Mentor by Name: Racers will request specific Mentors by name, but please note that a Mentor's time is not guaranteed; Mentors will presumably do their best to accommodate specific mentoring requests but if they are unavailable, the Racer will be responsible for reaching out to choose another Mentor.
NEW FOR 2020 Requesting a Mentor Generally: If a Racer does not feel comfortable requesting a Mentor by name, they may simply put out a general message in the #mt-racer channel stating that they're looking for a Mentor to step up. However, at the end of the day, securing a Mentor will be the responsibility of the Racer. Racers will be encouraged to reach out to Admins with any problems or issues during the pairing process.
Voice Chat vs. Text Chat: We will officially recommend that each Racer and Mentor engage in a 2-way voice chat in order to most effectively communicate through a seed. However, Racers are allowed to request any of the following for any reason:
2-way voice chat (recommended)
Mentor on voice, Racer w/ no mic
Mentor in Discord or Twitch chat
The reason for this rule is to provide Racers with no mic or racers who are anxious about participating in a voice chat an opportunity to still participate in the tournament.
Partial Mentoring: If agreed upon by both the Racer and the Mentor, a Racer may "dismiss" their Mentor before a seed has finished with no penalty. Furthermore, if a Mentor is running late and joins a seed already in progress, that is also allowed, provided that the Mentor has not been "spoiled" on the seed in any way (See cheating definitions below). However, once a Mentor leaves a Racer's voice or text chat, they may not join again for the rest of the race and are effectively finished in their mentoring duties for that race.
Beginning & Ending Each Race
The 2 Racers and 2 Mentors of each race will ultimately be responsible for setting up & starting each race, as well as reporting the race's outcome to admins. It doesn't matter which of the 4 parties involved does each task, as long as they are taken care of.
DO NOT WORRY if you're new to racing; not only are there lots of step-by-step guides to help you with these tasks, but Mentors will also be responsible for helping newer Racers work through all of these.
Pre-Race responsibilities include:
Individual Racer streams (OBS Setup Guide Here)
Acquisition of a voice chat channel for Racer/Mentor pairs
Generating the seed (in racetime.gg)
Setting up a race in racetime.gg (generates the seed, handles the pre-race countdown, and accepts !done's)
Once a race is complete, the winning Racer will be responsible for reporting the victory to the admins. This will be done via a designated form in which the winning and losing times & Mentors will be reported.
TIES: A Tie will be defined as both Racers ending within 2 seconds of one another. In the event of a tie, a rematch will be required!
Restreaming/Watching Races
The Default: Given that this is a relatively small community tournament run solely by volunteers, restreaming every race is not feasible. However, racetime.gg makes watching a multistream easier than ever with the click of one button. Viewers of these multistreams should feel free to react to the race along with other community members in our #live-races Discord channel.
When Restreams are Possible: In the event that a restream is possible, admins will coordinate with all of the necessary volunteers ahead of time to ensure that an acceptable quality stream can be produced. The Racers will be notified and consent will be gained to broadcast the race. These races will take place on the Go Mode Podcast Twitch Channel.
Winners
The Winning Racer: will receive an opportunity to be interviewed by timp, Daaanty, and/or Hurfydurfy on an episode of Go Mode Podcast, and will receive much praise by all of us and the community at large.
Mentors: The admin team will choose 1 or 2 "VIP Mentors" to invite onto the show to share their experiences. Criteria for this is fluid, but factors considered may include number of races mentored, number of matches "won" as a Mentor, repeated willingness to help out in a time of need, etc.
Cheating
Hate to do this, but we have to define cheating! Cheating will result in immediate expulsion from the tournament and we'll probably make fun of you on the podcast or something for cheating in a tournament where the goal is to learn to play Rando better. Do everything in your power to avoid accusations of cheating. The following will be defined as Cheating:
Stream Sniping – Watching your opponent's stream while you play.
Co-op Play – Having someone else play the seed at the same time as you and relay information to you about item locations, routing, etc.
Listening in – Either the racer or mentor listening to/reading the communication between the other racer/mentor team
Intentional Use of Major Glitches – Exploration Glitch, Door Glitches, Wrong Warps, Out-of-Bounds, Fake Flute, YBA, etc. In the event of accidental activation of a major glitch, the racer is to immediately save and quit, or if not possible trigger a console/emulator reset, and the mentor needs to notify a tournament admin about the accidental glitch activation.
Asymmetric Knowledge Exploitation (the "Insider Coaching Rule") – Due to mentors being privy to information about ALL participating racers, using knowledge of another racer's Rando knowledge (or lack thereof) to gain an unfair advantage for your own racer will not be allowed. If a mentor uses information in an opponent's bio to guide their own racer in a way that provides them an advantage, that mentor will be disqualified
Emulator-specific Hacks – Use of Save States, Fast Forward/Rewind, turbo buttons, etc.
Anything else that creates an unfair advantage or otherwise violates the spirit of the tournament as determined by the tournament admins.
We Can't Wait to Get Started!
Please feel free to email us at email@gomodepodcast.com, tweet at us @GoModePodcast, or ping us on the Go Mode Podcast Discord with any questions or concerns.
Thanks and we'll see you in Go Mode!